Standalone DVR Systems for Business Security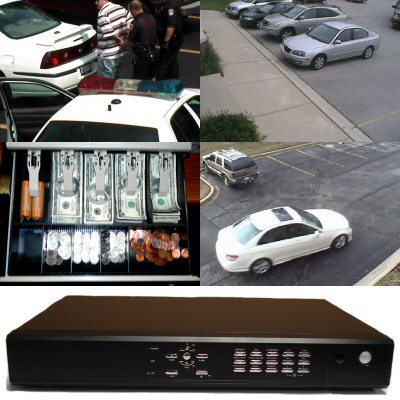 Standalone DVR systems are a popular choice for lower budget business security camera systems. These systems consist of a small standalone DVR recorder, which is about the size of a DVD player, which has inputs for 4, 8 or 16 cameras and a hard drive inside to digitally record from each of your security cameras. Most Standalone DVRs also have internet remote viewing capabilities, which allow the DVR to be plugged into your internet connection, to allow the video to be viewed over the internet. DVRs like our DVR-8804RT, DVR-8808RT and DVR-8816RT H.264 Standalone DVRs even allow you to access your video from a Windows PC or Laptop, Mac, iPhone, Android, Blackberry or even Android PDA phone or Tablet. These real time recorders will record video at a full 30 frames per second per camera onto the internal hard drive, and will even record only when motion is detected to conserve hard drive space.

Standalone DVR systems will silently sit and record from your cameras, so you never have to worry about leaving computers on, because the DVR is fully self contained. Standalone DVR systems are available with indoor cameras, outdoor cameras or mixed indoor and outdoor cameras, to suit virtually any business security camera installation. Ranging from budget indoor dome or outdoor armor dome cameras to higher resolution indoor infrared dome or outdoor infrared bullet style cameras, there is a security camera system for every business.


H.264 Standalone DVR Camera Systems for Business
---
&nbsp